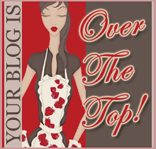 The Over The Top Award was given to me by my good friend
David
. I'm so grateful to this guy, who constantly visited my site and gave encouragement in times of troubled times..Thanks David for the friendship and for this great award.
Rules
To receive this award your blog must be exceptional in design and content; presenting us with new knowledge, a sense of style, or at times just giving us a smile!
Each recipient of the award will acknowledge the person who honored them with the award and then go to http://overthetopaprons.blogspot.com to copy/paste the award : Your Blog is Over The Top. (located on the right sidebar, scroll down).
I'm going to pass this award to the following bloggers regardless of if you have it or not already: Junellen, Marites, Judie, Kessa, TR, brilliam, jong, kevin, weng, kevin, shai, crissy, dhemz, ate rose, anne, tweegy, bon2x, ate karen and anyone else that is linked on my site. Feel free to grab this award because you deserve it!
I have many people on my link lists, so I know I forget to mention some of you. Also, please feel free to pass this award to anyone even if they've already received it.