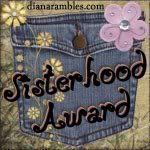 I just had a very rough day. I even cried in my bedroom because of the unending stressors of my life. But as soon as I opened my blog, I received this sisterhood award from a good friend of mine,
Brigitte
. Very touching one. And it made me realize that, after all these struggles in life you still have somebody to turn to. And by the way, enough of the drama. Let's start this:

1. Put the logo on your blog or post.

2. Nominate at least 10 blogs which show great Attitude and/or Gratitude!

3. Be sure to link to your nominees within your post.

4. Let them know that they have received this award by commenting on their blog.

5. Share the love and link to this post and to the person from whom you received your award.

And now, to share in the Sisterhood Award are:
1. weng
2. jhelea
3. marie
4.madz
5. jacky
6. anne
7. kessa
8. shai
8. claire
9. dhmez
10.amy